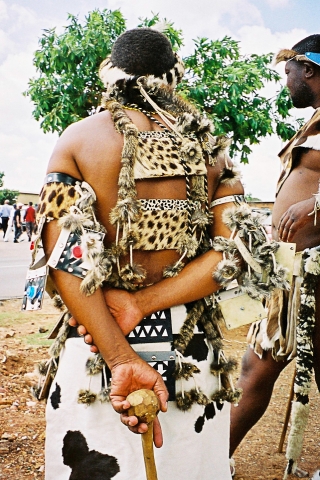 Umzansi Zulu Dancers formed in the wake of a fortuitous encounter. In 1987 while Gallo GRC producer West Nkosi was touring in France with Mahlathini and the Mahotella Queens, a music festival promoter approached him. The promoter asked Nkosi to track down dancers featured in a Johnny Clegg video that had aired on French television. Nkosi located the dancers and a select group appeared in 1987 at Festival d'Angoulême under the name Umzansi Zulu Dancers. Having performed to great acclaim, they returned to France the following year, performing in key cities, at Summer festivals in Montpellier, and at the Festival of Nimes.
Back in South Africa, Nkosi recorded their debut album Bayekeleni (1988). Two more recordings followed before Nkosi's tragic death in 1994.
The group has released 2 LPs and 7 CDs. They have performed with and alongside Johnny Clegg, who originally trained with one of the community troupes from which Umzansi Zulu Dancers draws its artists. They perform at cultural heritage events, arts festivals, weddings and corporate parties, and they have presented school workshops. Most regularly, they sing and dance at community gatherings and men's engagement parties at their Msinga home, and in vibrant ngoma dance competitions at men's hostels around Johannesburg.
Umzansi Zulu Dancers is a member of ACUMDA, African Cultural Music and Dance Association, and is registered with the Department of Social Development as a non-profit organization. Composer, choreographer, singer and dancer Mr Siyazi Zulu leads the group.